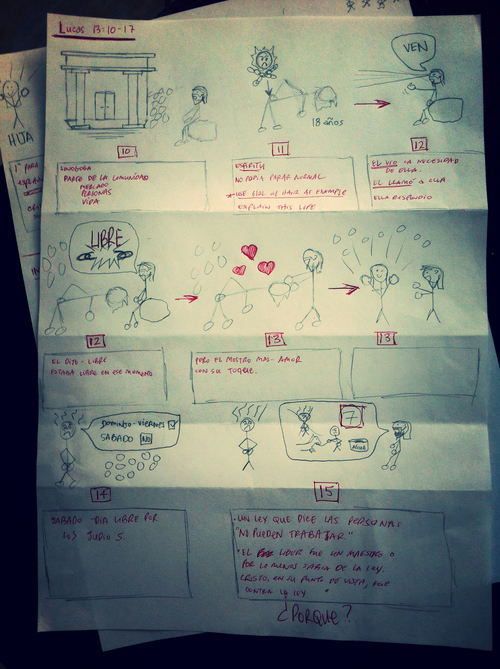 "Your kingdom come, your will be done, on earth as it is in heaven…"
My thoughts:
Instead of re-inventing the wheel, on nights like last night I just wait for Shaun Wissman to write a post about it on his ministry blog, and then link to it and add my commentary.
This week is no different.
I encourage you to read his entire account of the evening.There were things that transpired that I didn't know about until our taxi ride home afterward. But what I definintely wanted to draw your attention to was the healing testimony towards the end.
From Shaun's blog:
"We closed things up in prayer, the kids came back, and we a shared some amazing cookies Amanda had baked for us. Then slowly we said our goodbyes.

But we had a straggler. Hector was struggling.

So I looked at Steve and then we asked Hector what had happened to make him limp. Hector had been shot in the front of his hip. The bullet came out in his back by his spine. It had been 2 1/2 years and he was struggling to walk, and pain was intense in his left leg from pinched nerves.

Ya'll… The guy got shot. SHOT! What could we expect?

So we began to pray for his healing."
I remember noticing him when he came in. He sat next to me, and I thought to myself that we can't teach on a woman being bent over and getting healed, and then NOT offer physical healing to this guy! But at the same time, I had my doubts and didn't want to force myself on him and heal him if he was going to be overwhelmed. I knew nothing about him, nor did I know how he found out about the cell group.
I had all sorts of things go through my mind about why he would be healed, but I didn't know if he'd let us lay hands on him. Sometimes people tell us we're "too charismatic for them" and they agree to let us pray for them thinking we'll do it later in our own personal time after we've left.
Afterward, when Shaun encoruaged everybody to get into pairs or small groups, he walked over in my direction and I pointed to Hector's walker and said "I want to see him free of that chain, if he wants to be…"
I had no idea what Shaun would think or say to that. As some of you know, I recently published a Kindle book on divine healing and I'm weary of letting my motivations be to share testimonies of what God has done solely so I can write them on my blog. I just merely wanted to see him walk normally, whether I let anybody know it happened or not.
Healing should be normal. We wanted to demonstrate God's love, and like the story in Luke 13:10-17 of the bent over woman, it was compassion that motivated Jesus to offer healing to the woman — not to show off in front of the pharisees.
At any rate, we prayed for him several times as each time he said he felt better and better. He even stated he felt warm inside — that's called FUEGO DE DIOS!
There was more to the story and I encourage you to visit Shaun's blog at the link provided.
But I want to encourage you that if you are burning to demonstrate the Kingdom of God in your surroundings, don't worry aobut looking for opportunities — they're all around you. There's people in your life that are just waiting for you to show them love or offer to lay hands on them — they just might not know it. But what better testimony that God is at work than when He tangibly breaks chains in their lives.
Go for it!
See the whole story on calledtoperu.squarespace.com